Uploader for life - Your data, preserved forever..
Noary uses the latest blockchain technology to provide low-cost, simple, and secure permanent data storage
What is Noary?
Noary is a permanent storage uploader leveraging WEB 3.0 technology. The data is stored in a decentralized blockchain storage system called Arweave, ensuring that your data will remain intact even if Noary's service should cease to exist.
What is Arweave ?
Arweave is a decentralized storage network designed for permanent data preservation on the blockchain. It's a project already affiliated with several companies and projects, including Meta, Instagram, and Metaplex. Typically, to store data permanently on Arweave, one needs the cryptocurrency 'AR', but with Noary, you can permanently save your data through credit card payment.

120+ TB of data has been stored.
How can I permanently save data with Noary?
Not only does Noary provide a free upload quota, but you can also purchase permanent storage space with your credit card. The data is stored permanently with your first payment, so there's no need for a monthly subscription.
Simply drag and drop your files, add a title, description, and hashtags, and your post is ready! You can even choose to keep your posts private on Noary by setting a lock. Please make sure to check our terms and conditions carefully before posting.
How much money do we need to pay for 200 year storage?
It costs roughly 2 cents to permanently store 1MB of data! The more points you charge at once, the more discounts you get.
If you wish to save more than 10 gigabytes of data at a time, we offer special enterprise services. Please reach out to us via the 'Contact Us' link at the bottom of the page.
text:

500,000,000 words doc
this price is at 12/5/2023, 1:50:07 AM. price is always moving.
What is the basis for the permanent storage of data?
To permanently store data on Arweave, it is necessary to prepay the cost for 200 years, calculated from the current data storage cost.However, over the past 35 years, the cost of data storage has plummeted to one ten-millionth of the original cost (a few decades ago, a mere 1MB SD card cost more than $1,000).
Data storage cost per GB dropped 10M times in 35 years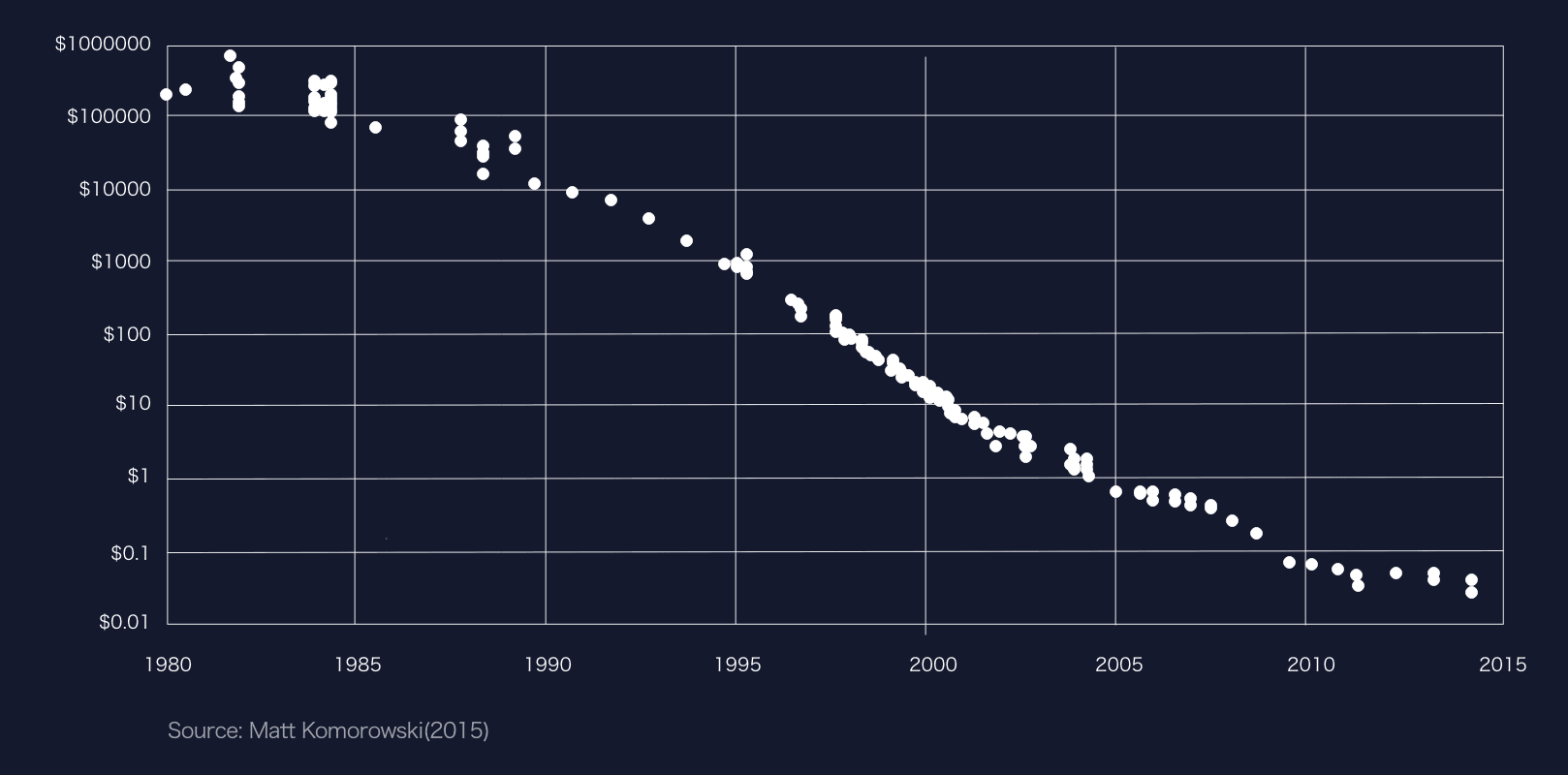 Considering the potential for further substantial reductions in storage cost, the cost for 200 years paid now would be enough to guarantee data storage on the order of millions of years in the future.